Investing in cryptocurrencies and mining: sharing results and strategy after 80 days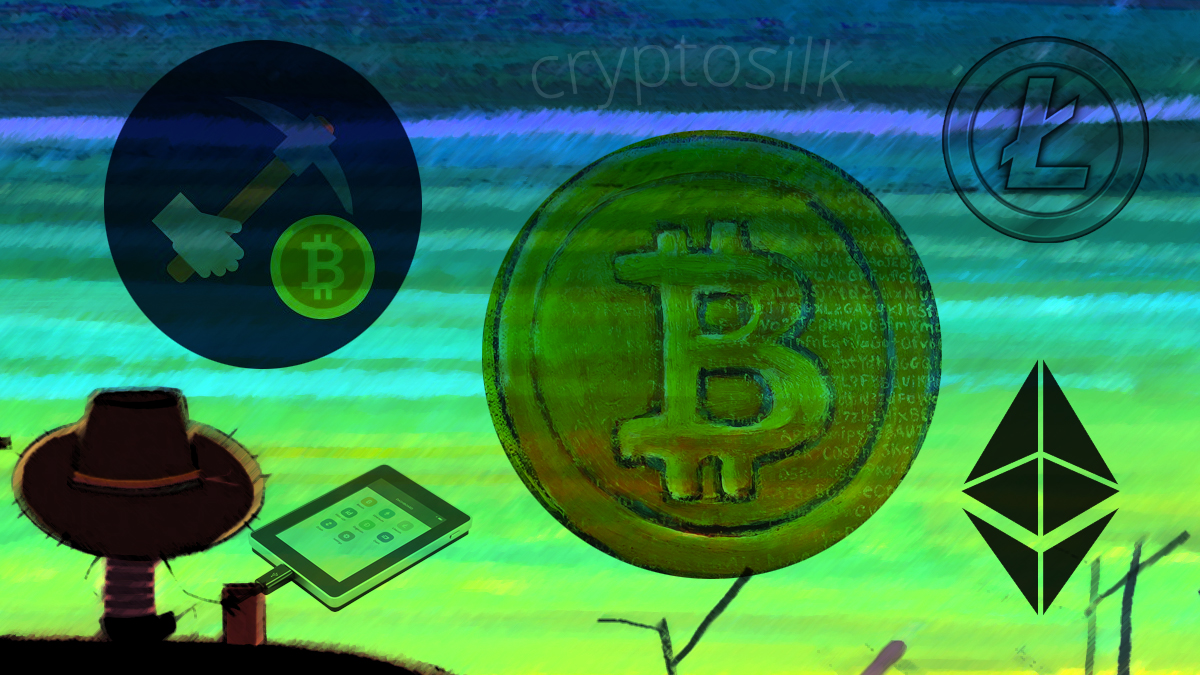 Two years ago i've heard about cryptocurrencies, actually it was something about Bitcoin and i didn't catch up this idea to the end. I knew about mining (how bitcoins appears), made some calculations, ROI and decided that it's not worth to invest my time to it.
BUT, after rally in May of 2017, when Bitcoin price reached $2000 and Ethereum price grew up 3000% in 5 months, i didn't have any choice like to make a step with my own real money in cryptocurrency world.
How did i started?
In June 2017 i didn't know anything about crypto wallets, exchanges, how to buy, sell or store cryptocurrency. First, i was fascinated about crypto mining, so decided to choose most secure company to invest in cloud mining. Then, i bought some Bitcoin and Ethereum from researched and secure bitcoin and ethereum exchange. I will share all my experience and earnings after 80 days living with cryptocurrencies.
Cloud mining
After some research and reviews on Youtube i've made a decision to choose Genesis mining. I've made some calculations and decided to buy Open-Ended Bitcoin Mining 20 TH/s contract. For this type of contract i've paid $2522. I expected to return my investment in 5-6 months, but mining difficulty increased and i was little bit scared. Changed my ROI prognosis to 8-12 months. Next, i will share my Genesis payouts, which decreases when mining difficulty increases:
Mining day
Net payout
Currency
80 days total:
0.40516678
BTC  
All payouts:
27.08.2017
0.00408936
BTC
26.08.2017
0.01216639
BTC
23.08.2017
0.00792722
BTC
21.08.2017
0.00801062
BTC
19.08.2017
0.00791591
BTC
17.08.2017
0.00797762
BTC
15.08.2017
0.01212345
BTC
12.08.2017
0.0080579
BTC
10.08.2017
0.00803858
BTC
08.08.2017
0.00845601
BTC
06.08.2017
0.01301223
BTC
03.08.2017
0.00421161
BTC
02.08.2017
0.01695753
BTC
29.07.2017
0.02731063
BTC
23.07.2017
0.00472625
BTC
22.07.2017
0.00475725
BTC
21.07.2017
0.00471161
BTC
20.07.2017
0.00461824
BTC
19.07.2017
0.00435512
BTC
18.07.2017
0.00434353
BTC
17.07.2017
0.00415927
BTC
16.07.2017
0.00395278
BTC
15.07.2017
0.00415312
BTC
14.07.2017
0.00520178
BTC
13.07.2017
0.00552489
BTC
12.07.2017
0.00560286
BTC
11.07.2017
0.00559593
BTC
10.07.2017
0.00566264
BTC
09.07.2017
0.00577283
BTC
08.07.2017
0.18577362
BTC
As you can see, first payout on 8th July was 0.18577362 BTC. It's because i've started on 8th of June and Genesis rules are if you paid by credit card – payouts are hold for 30 days in their account. Real payouts to my crypto wallet began only after 30 days mining. Pay attention, that daily payouts sometimes are with 1-6 days delay.
After 80 days i've got 0.40516678 Bitcoin (BTC) from mining. Today (August 29th 2017) Bitcoin price reached all time high $4500. So, i should be happy, my ROI from mining in 80 days now looks really impressive. After payouts conversion from BTC to USD, my result is $1823. It means that i've paid $2522 for cloud mining server, which is Open-Ended contract, and i've got $1823 payouts in 80 days.

Cloud mining scenario doesn't look so amazing if we compare it with Bitcoin buying scenario. If money were invested in buying Bitcoins instead of invested to Genesis cloud mining, then ROI of investment would be much better.
Genesis mining payouts are in Bitcoin, so i've had to create my Bitcoin wallet to receive payouts.
Cryptocurrency wallet
In case i've decided to invest to Genesis cloud mining and to buy some Bitcoin with Ethereum, i've had to choose cryptocurrency wallet to get payouts from Genesis and to store there Bitcoin with Ethereum.
There are three types of cryptocurrency wallets: online wallets, hardware wallets (most secured) and paper wallets.
Most comfortable are online wallets, but they are most unsecured. I've tried many online wallets: Coinbase, Blockchain, Copay, Airbitz, Breadwallet, Exodus and Jaxx. After some tests, i've picked up two online wallets which i still use: Jaxx and Exodus.
Jaxx wallet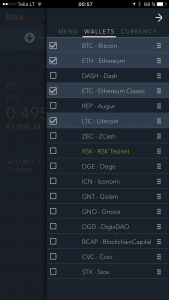 I've chosen Jaxx because of many supporting cryptocurrencies (BTC, ETH, ETC, LTC, DASH, REP, ZEC and many more), also another advantage is that Jaxx works on Iphone and Macbook which i use. There are still some bugs with Jaxx, but not major. First i don't recommend to get Genesis payouts to Jaxx wallet, because you may loose your payouts, they do not support transfers from mining in small amounts. You can search on the internet more about this problem.
Actually there is one extra good thing about Jaxx. After Bitcoin fork, when Bitcoin cash appeared, Jaxx promised to add new Bitcoin Cash wallet to Jaxx. It means that those, who had Bitcoin until August 1st, will get the same amount in Bitcoin Cash. It's very good news – free money makes me smile 🙂
Exodus wallet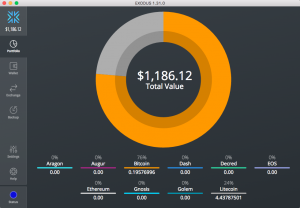 Exodus works only on Desktop, but it's interface and reviews on internet are really positive. I've chosen this wallet as my second wallet to receive mining payouts. Exodus doesn't have any issues about mining payouts – it works really great. Exodus registration and app is really easy and works on OS X.
Hardware wallets
I've tried only Ledger hardware wallet, so i can recommend only this. Ledger offers two types of hardware wallets Ledger Nano S and Ledger Blue.
Ledger Nano S. The Ledger Nano S is a multi-currency hardware wallet, featuring a screen for payment validation and architected around a secure element for maximum protection of your assets.

Ledger Blue. The Ledger Blue is a high end signature device, featuring a touch screen and USB/BLE connectivity for PC and smartphone compatibility. It runs multiple apps such as Bitcoin, Ethereum, FIDO U2F, SSH, GPG and many more. The Blue is the most advanced open source secure device available.
Another popular hardware cryptocurrency wallet is Trezor, which you can also buy on their site.
Paper wallet
A paper wallet is a document that contains copies of the public and private keys that make up a wallet. Often it will have QR codes, so that you can quickly scan them and add the keys into a software wallet to make a transaction. There are many paper Bitcoin wallet online generators which can create a wallet in few steps. I didn't try, so i cannot recommend or advice.
Bitcoin and Ethereum exchanges
After investing to cloud mining i've decided to buy some Bitcoin and Ethereum for long term, so i've had to choose low fee BTC and ETH exchange. I've tried some exchanges: Coinbase, CoinMama, Bitcoin.de, Bitstamp, Bitbay, but finally chose Bity.com because of lowest fees. On bity.com i've bought 2,85 ETH for $1200 and 0.3868 BTC for $1200.
Cryptocurrency exchange market, altcoins
I wanted to buy some altcoins Litecoin (LTC) and Ethereum Classic (ETC), so i've had to join crypto exchange market. I've tried to use Bittrex and Poloniex exchanges, but made some real transactions only with Poloniex (also, because of lower fees). For just playing, i've spent 0,12 BTC to buy 9.9 ETC (Ethereum Classic) and 4,4 LTC (Litecoin).


Portfolio and results of investment to cryptocurrency world after 80 days
Today my investment to cryptocurrency sphere consists of cloud mining and cryptocurrencies:
Cloud mining investment: Investment $2502 (8th June 2017)
Cloud mining ROI (return of investment) 80 days: $1823 (0.40516678 BTC) by the date of 29th August 2017
Cryptocurrency portfolio bought on 12th June 2017:
Bought ETH (Ethereum) 2.85 for $1200
Bought BTC (Bitcoin) 0.3868 for $1200
Spent BTC (Bitcoin) 0.12 to buy LTC and ETC
Balance BTC (Bitcoin) 0.2668 ($773)
Bought LTC (Litecoin) 4.4 for $138 (0.0476144 BTC)
Bought ETC (Ethereum classic) 9.9 for $208 (0.0719395 BTC)
Cryptocurrency portfolio result by 29th August 2017:
2.85 ETH price $1051 (-$149)
0.2668 BTC price $1220 (+$447)
4.4 LTC price $272 (+$134)
9.9 ETC price $157 (-$51)
Overall, I've spent $2400 (BTC and ETH) on 8th June and on 29th August my portfolio value is $2700 (BTC, ETH, LTC, ETH). It's +$300 for now.
Cloud mining result also positive. I understand that my ROI 72% in 80 days is just because of rising Bitcoin price, and it's not about good mining perspective at all.
Strategy and Bitcoin forecast
Markets full of optimism means that prices will go down soon. I've made some Bitcoin price forecast for the rest of 2017 (Sep, Oct, Nov, Dec).


I'm just guessing, September and maybe October will be rising months for Bitcoin price, but later Bitcoin should go down. When everyone buys, even grandmother from the market or taxi driver, you should know that price won't go up forever. I think that Bitcoin price will reach $6000 by the end of the year, but it won't be so easy. There will be difficult periods for Bitcoin and we should wait for bear coming to the coin market. Just remember month of July this year, when crypto market were red.
My plan is to wait Bitcoin price down cycle and then buy some of this crypto.
If you like my article, please share your thoughts in comments, let's discuss.